The hike to the top of Steamboat Rock is one of the most rewarding hiking opportunities in Eastern Washington. The trail to the top is slightly difficult but not too strenuous and before you know it you will be looking at one of the most incredible views this side of Washington state!
So where or what is Steamboat Rock? Steamboat Rock is a massive rock that stands in the middle of Steamboat Rock State Park, one of the most beautiful state parks in Eastern Washington. Although it is called a rock, it is more like a butte or mesa. The rock itself is a whopping 600 acres made from basalt that steeply rises out of magnificent Banks Lake.
At the top of the 800 foot high rock are incredible views of the surrounding unique landscape carved out by the Great Missoula Floods. When you get to the top you can stand at the edge of the rock's sheer cliffs which are sure to get your heart racing.
We highly recommend planning a summer camping trip here because not only is the park stunning, but there are so many outdoor recreation opportunities that involve fun lake activities.
Steamboat Rock Trail Guide
Distance: 6 miles / Elevation Gain: 800 feet
You can begin the hike up to Steamboat Rock from three different trails along the main road. All three trails will eventually meet up at the center of Steamboat Rock's base. At the center of the rock you'll see a steep and narrow trail that cuts through the middle of the columnar basalt.
The narrow and steep section climbs up loose scree and can be slippery in a few places. This section is definitely a work out so be prepared to sweat. We did this hike in 90 degree heat so there were several times we considered turning around but when you see how stunning the views are from here even before you've gotten to the top, it makes for great motivation to keep going!
Keep persisting because honestly this stretch of the hiking trail does not last long and before you know it you will reach the top. There will be a T-intersection where you can choose to go left or right, we went right as this side had much more scenic and breathtaking views.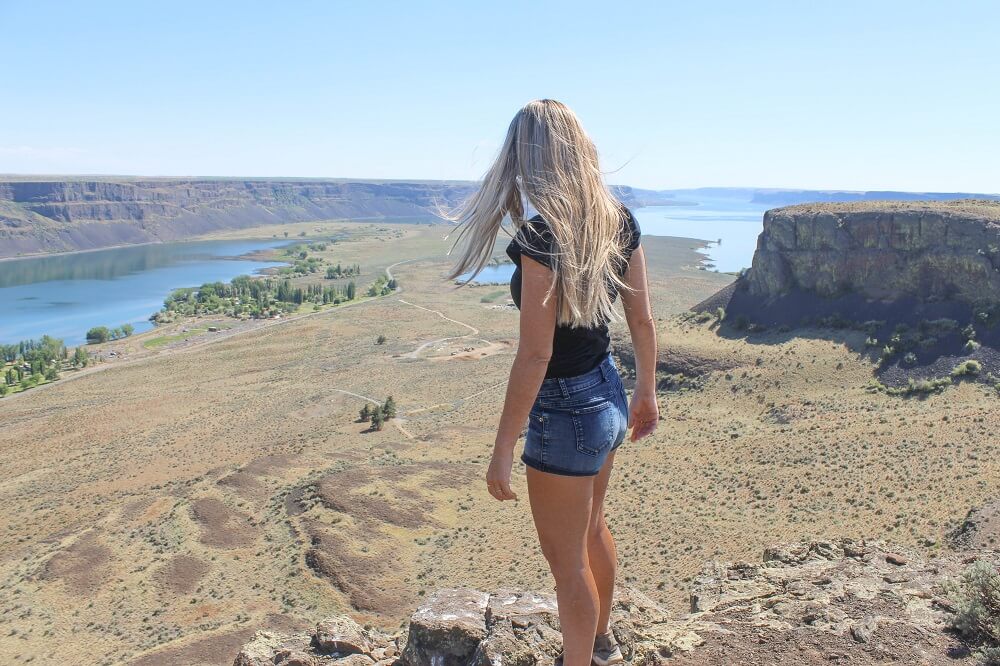 Once you're at the top you can stop for a breather and take in the views of Steamboat Rock State Park and beyond. It is really impressive!
From here you can either head back down or do a loop around the entire rock formation. It is mostly flat and easy so you don't have to worry about any more strenuous activity.
So is the hike up worth it? Yes! You don't realize it from the bottom but the top of Steamboat Rock is huge. So huge that it almost doesn't even feel like you are on top of a rock in the middle of a lake at all. It feels more like a huge desert meadow filled with fragrant sagebrush.
And you really must walk to the other end of the butte to see how cool the view is facing west. From the other side, the jagged and snowy peaks of the Cascade mountains are visible in the distance, and you can see how vast Banks Lake really is.
The hiking distance from the bottom to top is about three miles round trip however if you decide to do the whole loop trail around the entire perimeter the distance covered will be around six miles round trip.
Tips For Hiking Steamboat Rock
Carry lots of water with you! Especially in summer.
Bring sunscreen too as there is no shade along the trail.
Beware of rattlesnakes early in the morning and late afternoon.
A Discover Pass is required to enter the park or pay a $10 fee.
More Places To See Near Steamboat Rock:
Steamboat Rock State Park: A stunning state park in eastern Washington that features a massive lake perfect for swimming, boating, fishing, and camping in the summer.
Sun Lakes Dry Falls State Park: A state park in eastern Washington created by Ice Age Floods. The park contains a 3.5 mile wide chasm that was once the site of the largest waterfall in North America!
Lake Lenore Caves: A set of ancient caves located on Highway 17 in the Coulee Corridor that visitors can hike to. The trail is very easy and features spectacular views of Columbia Gorge.
Soap Lake: A lake in eastern Washington noted for its "healing waters" which was once upon a time very soapy in appearance.
Best Guide Books