6 Best Hikes At Pinnacles National Park
Pinnacles National Park offers unique hiking trails that you won't find at other national parks. The hikes at Pinnacles National Park will have you crawling through caves, wandering through a maze of boulders, and scrambling up rocks on trails that offer spectacular Central California scenery!
At this park, there are more than thirty miles of hiking trails ranging from easy to strenuous. Because many of the trails intersect, it's possible to complete multiples hikes in just one day. And with a visit of three days, you can easily cover EVERY single trail in the park!
Pinnacles is one of the smallest and least visited parks in the national park system located in an underappreciated part of California. However, that doesn't mean it's not an exciting place to visit.
Pinnacles National Park gives visitors access to spectacular rock formations that are remnants of an extinct 23 million year old volcano. The rocks at Pinnacles are unlike the sturdy granite found at other California national parks like Yosemite and Joshua Tree, and are instead mostly made up of yellow, orange, and cream colored volcanic breccia.
The park encompasses 26,000 acres and is set in a sunny landscape dotted with various types of Oak trees including Blue Oaks and Live Oaks.
The star attraction at Pinnacles National Park are the Talus Caves. Over millions of years, the jumble of boulders have tumbled into narrow canyons creating underground spaces known as Talus Caves which visitors are able to hike through during fall, winter, and spring.
During the summer, the Talus Caves are closed to protect the park's colony of Townsend's Big-Eared Bats, a protected species that raises their young in the caves at this time of year.
But bats aren't the only cool species you're likely to come across at Pinnacles National Park, you might also see a soaring California Condor or a leaping Red-Legged Frog, both of which are on the protected species list.
Guide To Best Hikes At Pinnacles National Park
As you've probably gathered from reading the above information, there is much to look forward to when it comes to hiking at Pinnacles National Park.
To help with planning your trip, a table with a list of every trail in the park has been provided below. Further down is a detailed description of the best hikes along with necessary information.
Overview Of Hiking Trails At Pinnacles National Park
| | | | |
| --- | --- | --- | --- |
| Trail Name | Difficulty | Distance | Elevation |
| Prewett Point Trail | Easy | 0.9 mile | 78 ft |
| Jawbone Trail | Easy | 2.4 miles | 100 ft |
| Balconies Caves-Cliffs Loop | Easy | 2.4 miles | 100 ft |
| Moses Spring to Bear Gulch Cave | Easy | 1.4 miles | 311 ft |
| Bear Gulch Reservoir via Rim Trail | Moderate | 2.2 miles | 500 ft |
| Condor Gulch to High Peaks Loop | Strenuous | 5.3 miles | 1300ft |
| High Peaks and Bear Gulch Loop | Strenuous | 6.7 miles | 1425 ft |
| Old Pinnacles to Balconies Cave | Moderate | 3.4 miles | 0 feet |
| Old Pinnacles – Balconies Cave – High Peaks – Blue Oak Trail | Strenuous | 7.9 miles | 1425 ft |
| Chalone Peak Trail | Strenuous | 8 miles | 2040 ft |
| South Chalone Peak | Strenuous | 11.2 miles | 2040 |
| North Wilderness Loop | Moderate | 9.5 miles | 1220 ft |
Before heading to Pinnacles National Park, be sure to pack a few essentials for hiking here such as binoculars for wildlife viewing and a flashlight if you plan to hike through the Talus caves.
Rangers recommend a headlamp rather than a flashlight so that your hands are free to help with your balance while you maneuver through tight squeezes and crawl between small spaces.
If you haven't decided yet on when to plan your trip here, or which entrance to visit, you can see this complete guide to visiting Pinnacles National Park which covers everything you need to know to plan the perfect trip.
Prewett Point Trail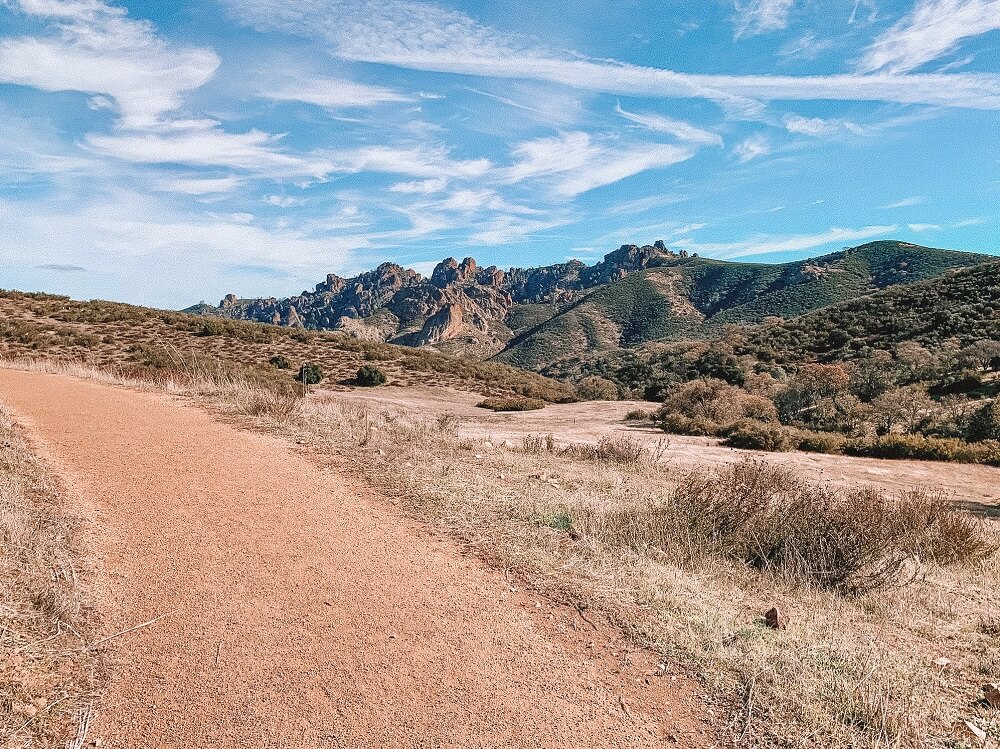 Distance: 0.9 roundtrip
Elevation: 70 feet
Hiking Time: 30 minutes
Where: West Entrance
The Prewett Point Trail is the shortest and easiest hike at Pinnacles National Park. It is also wheelchair accessible and stroller friendly because the trail is flat and has been hardened.
This hike begins at the West Visitor Contact Station and leads to an overlook which offers panoramic views of the High Peaks, Balconies Cliffs, and surrounding countryside.
Starting at the Visitor Center, you'll see a five foot wide compacted trail leading out into a large field. Follow this trail into the park and eventually the High Peaks will come into view and you'll be able to see the fire tower on the top of North Chalone Peak.
There is a junction in this trail, continue straight ahead (instead of turning right) though to the overlook to get a better view of the High Peaks as well as Balconies Cliffs.
Along the way are several bench seats to stop and take a rest and to just relax and take in the views. If you're lucky you may see condors circling above the High Peaks.
Head back to the Visitor Center around the loop and then the same way you came, but if you want to continue hiking, follow the Jawbone Trail down to the park ending at the Jawbone Parking Area. Keep in mind, if you continue along this trail, you have to hike back the same way you came or walk back along the road to the Visitor Center.
This is a great trail for beginner hikers or if you have a limited amount of time. If you can hike early in the morning or late in the evening you are likely to see turkeys and deer in the fields.
Balconies Cave / Balconies Cliffs Trail Loop
Distance: 2.4 miles
Elevation: 100 feet
Hiking Time: 1 hour
Where: West Entrance
Balconies Cave Trail is one of the coolest hiking trails at Pinnacles National Park! This trail which is rated as moderate leads visitors through one of the park's most intriguing features – Talus caves!!
Talus caves are formed when boulders fall into chasms creating a maze of pseudokarst caverns. These boulder caves are usually found in areas with rocky outcrops consisting of granites or gneiss, or any fractured rock that forms large, angular boulders. They are predominantly found in mountainous areas in the western half of the United States and also the Appalachian region.
On this hiking trail you'll have the opportunity to explore Balconies Cave which will have you twisting, turning, and alternating between tight squeezes and large dark passages.
Park at the Chaparral Parking Area and make your way along the trail for 0.6 miles until you reach the cave. The trail through the cave is only 0.4 miles so for friends and family members who are afraid of the dark, tell them not to worry because it won't be long before you appear out the other side.
This fun trail is only two miles out and back, that is if you hike back the same way once you reach the end of the cave.
However, I recommend taking the Balconies Cliffs Trail on the way back which takes hikers above the Talus Caves to gain a birds eye view of the interesting rock formations. Keep in mind though that this stretch of the trail does involve some minimal elevation gain.
The easiest and best way to access the Balconies Cave Trail is from the west entrance of Pinnacles National Park, however the cave is also accessible from the east side of the park via the Old Pinnacles Trailhead which would be a 3.8 mile return trip hike.
Another option from the east entrance is to complete the epic Old Pinnacles – Balconies Cave – High Peaks – Blue Oak Trail (6.5 miles in total).
Be sure to pack a flashlight for this hike, and also note that wading may be necessary in winter if it has been raining.
Bear Gulch Cave and Bear Gulch Reservoir
Distance: 1.4 roundtrip
Elevation: 311 feet
Hiking Time: 1 hour
Where: East Entrance
This is another awesome and easy hike which is best started from the east side of the park. The trail not only leads to one of two Talus caves within Pinnacles National Park, but also to a beautiful area known as Bear Gulch Reservoir.
Park your vehicle at the Moses Spring Parking Area and begin this hike at the Moses Spring Trailhead. Continue for 0.7 miles through an area shaded by oak trees until you reach Bear Gulch Cave where the fun begins.
Enter the darkness of the cave and make your way through the tight passages and big empty spaces.
Once you reach the cave opening on the other side there will be a steep, rocky staircase which you'll need to climb up. At the top of the staircase you'll be surprised to see a beautiful reservoir surrounded by rocky outcrops.
This reservoir is known as Bear Gulch Reservoir, and it reminded me a little bit of Barker Dam at Joshua Tree National Park (if you've ever been you'll know what I mean).
The reservoir is especially scenic during sunrise and sunset. We were lucky enough to time our visit during sunset so I can attest to the lake's beauty at this time of day. A fun fact about about the reservoir is that it is home to the protected California Red-Legged Frog.
Once you're done with visiting the reservoir, you can hike back down to the trailhead the same way you came, that is through Bear Gulch Cave, or take the trail right beside the cave (not through it).
For a change of scenery, you can also choose to hike back along the Rim Trail which is only 0.4 miles back.
Because Bear Gulch Cave is home to a colony of Townsend's Big-Eared Bats (a protected species), the cave is closed seasonally from around May through July while mothers raise their young. If the cave is closed during your visit, there is another trail that runs beside the cave you can take.
>>Read: Hiking To Bear Gulch Cave & Bear Gulch Reservoir
Bear Gulch Reservoir Via Rim Trail
Distance: 1.4 miles
Elevation: 500 feet
Hiking Time: 1 hour
Where: East Entrance
The hike to Bear Gulch Reservoir begins at the Moses Spring Trailhead, the same trail to Bear Gulch Cave, however you will take the Rim Trail when you get to the junction.
This trail does have some elevation gain and some great views along the way.
It is less than a mile to Bear Gulch Reservoir one way and you can head back the way you came or take the trail back that runs along Bear Gulch Cave (but not through it).
If you have time, take a stroll around the body of water or sit on a rock and soak in the views. Unfortunately you cannot swim in the reservoir. It's also recommended you don't drink out of it.
I thought I would mention this hike because if you are visiting during summer, the caves at the park will be closed and wanted you to know you can still hike out to the reservoir which I think is totally worth doing.
It's not a very long hike so you'll have time to complete other trails in the park should you choose.
High Peaks Trail
Distance: 7.9 miles
Elevation: 1,425 feet
Hiking Time: 4 hours
Where: East or West Entrance
The High Peaks Trail wa our favorite hike at Pinnacles National Park. This trail is challenging, fun, and full of surprises.
I say the trail was full of surprises because I didn't expect it to involve so much scrambling up rocks, climbing, and ducking boulders but it made this hike so much more interesting!
And the views…! Just wow!! I was not expecting the trail to lead to such breathtaking views but the trail really does lead up into some high country with spectacular views over Central California.
There are many ways to complete the High Peaks Loop, for example, by starting at the Condor Gulch Trail and finishing back up at Moses Spring Trail. Or you could even complete the High Peaks Loop from the west entrance on the Juniper Canyon Trail.
However we did things a little differently. We began our hike at the Old Pinnacles Trailhead and hiked down to Balconies Cave, then High Peaks, before heading back along the Blue Oak Trail.
It was an epic hike and took about four or five hours. We took our time though exploring large rocks, boulders, and other areas we found along the way.
I think we may have enjoyed this trail more than the caves so if you are considering whether it's worth visiting during a time when the caves are closed, the answer is yes. You still have so much to look forward to.
>>Read: How To Hike High Peaks Trail In Pinnacles National Park
Chalone Peak Hiking Trail
Distance: 8 miles
Elevation: 2,040 feet
Hiking Time: 4 hours
Where: West Entrance
The hike to Chalone Peak is the hardest and longest trail at Pinnacles National Park. This trail takes hikers to the park's highest peak, North Chalone Peak, where you'll be rewarded with panoramic views of the surrounding valleys.
Start this hike at the Moses Spring Trailhead and take the trail through Bear Gulch Cave to Bear Gulch Reservoir. From here you will see a post with a sign to start the official trail to Chalone Peak.
You will eventually stumble upon two fences that you will need to climb over to continue onto Chalone Peak. Whatever you do, do not avoid climbing over the fence as you can easily lose your way and end up bushwhacking through brush on a game trail. The second fence is about a mile from the peak so you won't have too much further to go from here.
It's a little steep going up but not too bad. Take your time and before you know it you'll be at the end of the trail! To extend your hike, feel free to continue down an unmaintained trail to South Chalone Peak.
Some things to keep in mind about this trail is that there is no shade and it can get quite hot! We visited Pinnacles during the winter and it was still very sunny and warm! Be sure to bring enough water and don't forget your sunscreen. Maybe bring some snacks too.
It takes a little over two hours to reach the summit and a little less to hike back down. You can take the Rim Trail on the way back to switch things up.
Tips For Visiting Pinnacles National Park
Is The East Or West Side Of The Park Better For Hiking?
There are two entrances to Pinnacles National Park, an east entrance and a west entrance. All of the hikes can be accessed from both entrances but some trails may be further away depending on which entrance you choose to visit. For example, Balconies Cave is closer to the west entrance, and Bear Gulch Cave is closer to the east entrance. Either way you can easily visit one of these caves!
Which Is The Best Hike At Pinnacles National Park?
All of the hikes are great and offer something unique so you can't really go wrong with any of them. The nice thing about this park is that many of the trails are connected so it is possible to do multiple trails in one long hike.
In saying that, our favorite hike was Bear Gulch Cave to Bear Gulch Reservoir and the Old Pinnacles Trail – Balconies Cave – High Peaks Trail combination.
How Many Days Do You Need In Pinnacles National Park?
You will be able to see a lot in one full day, but I recommend two full days at Pinnacles so that you have time to complete most of the trails which is very doable.
For example, on day one you could complete a loop of the hiking trails in the northern section, and on day two you could hike the loop in the southern section, i.e. Condor Gulch – High Peaks – Bear Gulch trails.
If you only have time for one hike, I would recommend Bear Gulch Cave or Balconies Cave Trail for beginner hikers, and High Peaks Trail for experienced hikers.
Can You Camp At Pinnacles National Park?
Yes. There is one campground at the east entrance of the park which is open year-round. It offers tent and RV sites. Tent sites have a picnic table and fire ring, and RV sites have hookups. There are showers which are coin operated. The best thing about this campground is the pool which is open during the summer from April 1st to September 30th.
A general store with basic foods and camping supplies is located onsite near the campground and is open from 9.30am to 5pm.
Campsites can be reserved up to six months in advance here or by phoning (877) 444-6777.
Are There Any Hotels Near Pinnacles National Park?
Unfortunately there are no hotels near Pinnacles National Park. If you plan to visit the west entrance, the Inn At The Pinnacles and the Motel 6 in Soledad are the only options.
The closest accommodations to the east entrance are in Hollister about thirty miles away (40 minutes drive). Recommended hotels in Hollister include the Fairfield Inn & Suites by Marriott or SureStay by Best Western if you're on a budget.
If you really want to spoil yourself and willing to drive a little bit further, check out the Posada de San Juan which is located in the historic district of San Juan Bautista. This hotel offer spacious rooms, fireplace, and jetted bathtubs.
Search for more hotels near Pinnacles National Park.
BEST GUIDE BOOKS
Read More On Pinnacles National Park
Pin For Later!
Join our facebook travel group for weekly USA destination inspiration!