10 Really Cool Things To Do In Medicine Park, Oklahoma
Medicine Park is a charming town in southwest Oklahoma known for its unusual cobblestone architecture. This 'cobblestone community' not only has a fascinating history but is surrounded by natural beauty too.
The tiny settlement sits at the entrance to the Wichita Mountains Wildlife Refuge which provides a scenic backdrop to this quiet oasis. Although the refuge is what usually draws most visitors to Medicine Park, the town itself has a lot to offer too.
Medicine Park was founded in 1908 as Oklahoma's first resort destination by John William Elmer Thomas who fell in love with the place. It was such a popular vacation area in the 1920's that even president Roosevelt spent his holidays here as well as famous outlaws such as Al Capone and Bonnie and Clyde. The resort became known as the 'Jewel of the Southwest' and it's not hard to see why it gained this reputation.
There are fifteen lakes in the vicinity of Medicine Park which makes this place a great summer destination in Oklahoma. Visitors can take advantage of numerous boat ramps, fishing docks, public beaches, and lakeside campgrounds. If you don't have your own boat there is no need to miss out on the fun though as there are several rental shops in town.
Hikers will enjoy the short trails in the Medicine Park area which consist of flat grasslands and rocky gardens. For more challenging trails head into the Wichita Mountains where you can explore the rolling hills and boulder-strewn landscape.
While you can easily visit Medicine Park on a day trip from Oklahoma City, you may want to consider spending an entire weekend in town to take advantage of everything this destination has to offer. As you'll see from the list of things to do in Medicine Park below, there is more than enough to keep you busy for at least two days if not more.
>>Read: Best Day Trips From Oklahoma City
For those of you who do intend to stay overnight, there are many vacation homes in Medicine Park to choose from as well as other lodging options located in nearby Lawton.
10 Best Things To Do In Medicine Park
Stroll Around The Cobblestone Community
Medicine Park's allure and biggest drawcard is the town's unique architecture which was constructed using cobblestones from the Wichita Mountains. It is guaranteed you won't find buildings like these anywhere else in the United States.
These cobblestones were formed approximately 250 million years ago when erosion produced gravel deposits of these round granite boulders that are 6-18 inches in diameter. The cobblestone architecture can be seen in the original cottages, public buildings, walls and shops throughout downtown Medicine Park.
Relax By Bath Lake
Bath Lake was formed in the 1920's and is located smack bang in the center of downtown. The lake is a favorite attraction among visitors to Medicine Park and is enjoyable whether you choose to swim or not.
Picturesque scenery surrounds the shoreline and there are several areas to sit and relax by the water. Swimmers can enjoy shallow and deep parts of the pool and many guests come prepared with pool toys and inflatable rafts. Swimming is free for residents but there is a small $3 fee for non-residents.
Visit Medicine Park Aquarium & Sciences Center
The Medicine Park Aquarium and Sciences Center has over 90 native and non-native fish, reptile, amphibian, and mammal species on exhibit. Some of the species you can expect to see here include electric eels, pirahnas, paddlefish, and otters.
There are various holiday experiences they put on throughout the year such as 'Fish or Treat' in October, summer concerts, and kids camps. Be sure to visit their facebook page here to stay updated with what's happening.
Go Swimming In Lake Lawtonka
Lake Lawtonka is a huge man-made lake formed by a dam that can be visited at the lake's southern end. The lake has over twenty miles of shoreline and offers plenty of recreation opportunities such as boating, fishing, and other water sports.
It is a perfect place for swimming with a public beach available for day use which you can find on the lake's eastern shore. This beach is also a good spot to picnic and enjoy views of the Wichita Mountains to the west.
Fishing is great here and the lake is noted for it's smallmouth bass catch and release program which has produced the current state record. Other fish in the lake include crappie, catfish, saugeye, and walleye. Boat ramps and fishing docks allow access to the lake at various points.
Overnight campsites are available at both East Campground and Robinson's Landing. Both campgrounds include hot showers and bathrooms. There are also several RV parks along highway 58 which runs parallel to the lake.
Heritage Farm & Ranch
Heritage Farm & Ranch is located north of Lake Lawtonka and offer visitors quality local produce including beef, fresh-baked bread, bagels, cinnamon rolls, and corn on the cob throughout various times of the year.
The farm operates an open air market open to the public on Saturdays that is open June through August and the entire month of October.
Have Fun On The Water At Lake Elmer Thomas Recreation Area
Lake Elmer Thomas Recreation Area (LETRA) is located on the outskirts of Medicine Park at the base of Mount Scott.
Things to do here include swimming, canoeing, kayaking, and paddle-boarding. You won't need to bring your own watercraft either as rentals are available. You can see rental rates here.
But that's not all. Other fun activities include miniature golf, frisbee golf, cornhole, mountain biking, and paintball. There is even a waterslide here!
Year-round tent camping is available, along with RV sites, and several modern cabins. Nightly rates range from $10 to $100. See nightly and weekly rates here. Three bathhouses where visitors can shower are located in the RV park, the Beach House, and on the western side of the park near the playground (the latter is open 24 hours during summer).
Guests will need to acquire a Visitor's Pass at the Visitor Control Center by Sheridan Road Gate prior to entering.
Explore Wichita Mountains Wildlife Refuge
The Wichita Mountains Wildlife Refuge is one of Oklahoma's most beautiful destinations and one of the main reasons most people visit Medicine Park.
The refuge covers 59,020 acres and consists of natural grasslands, a variety of native plants, and numerous animal species that include American bison, Rocky Mountain Elk, White Tailed Deer, and Longhorn Cattle. The park's favorite residents with visitors are the cute and curious Prairie Dogs which are located in the aptly named Prairie Dog Town.
There are many miles of hiking trails to explore as well as shorter paths for non-hikers. If you are short on time, you can take a scenic drive through the park along highway 49 from the park's east entrance in Medicine Park to Buffalo Gap in the western section in under thirty minutes.
Drive Up To Mount Scott Observation Area
Mount Scott is situated on the eastern edge of the Wichita Mountains Wildlife Refuge and at 2,464 feet above sea level, it is one of Oklahoma's highest peaks.
The Mount Scott Observation Area offers motorists a lovely scenic drive along a three mile road to the summit from which you can enjoy breathtaking views of southwest Oklahoma.
For those of you who like a challenge, you can choose to hike up to the summit instead of driving however there is no separate trail, and involves walking up the main road which is shared with vehicles.
Hike To Lake Jed Johnson Tower
The Lake Jed Johnson Tower is situated near the northern shore of Lake Jed Johnson. It is an old fire watch station that was constructed by the Civilian Conservation Corps in 1941.
The tower which stands at 60 feet is very handsome and made out of beautiful red sandstone. Although it is now abandoned and reportedly structurally unsound, visitors are permitted to hike to it.
Access to the tower is via the Jed Johnson Hiking Trail which is a one mile out and back trail with an elevation gain of 68 feet. The trail is easy and accessible year-round.
Visit The Holy City Of The Wichitas
Nestled in the Wichita Mountains is what appears to be the ruins of an ancient city that looks much like Israel during Biblical times. However, this encampment was originally constructed during the 1930's from locally quarried granite.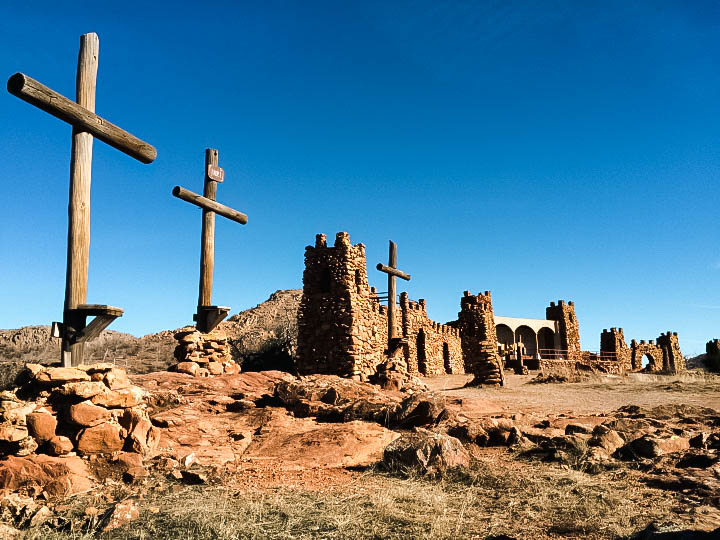 The Holy City of the Wichitas is a place where the story of Jesus Christ has been retold to thousands of spectators over the last ninety years. The storytelling began here in 1926 when Reverend Anthony Mark Wallock took his Sunday school class up into the hills to learn about Jesus. By 1930, his annual presentation was attracting over 6,000 people!
The replica Holy Land construction started in 1934 and now includes numerous buildings such as the Temple Court, the Lord's Supper Building, Herod's Court, Pilate's Judgement Hall, Garden of Gethsemane, in addition to watchtowers and perimeter walls.
Every year on Easter Sunday, the story of Jesus Christ from birth to his resurrection is told here to an ever-growing enthusiastic crowd. It is now the country's longest running Easter passion play. If you can't make the annual pilgrimage to see the show you can still visit the Holy City any time throughout the year.
Where To Stay In Medicine Park
There aren't many hotels in Medicine Park however there are plenty of vacation homes and cabins to choose from. There are also several campgrounds and RV parks in and near Medicine Park. If you would prefer to stay at a hotel the nearest town with hotel accommodations is in Lawton.
Lodging In Medicine Park
The Red Cabin – This cabin with two bedrooms sits atop a ridge overlooking the quaint cobblestone community of Medicine Park.
Hilltop Cobblestone Cottage – This property is an authentic cobblestone cottage within walking distance of downtown.
Medicine Park Cabin Rentals – This business offers several homes and adorable cabins to rent throughout Medicine Park ranging from $100 to $300 per night.
Lodging In Lawton
Hilton Garden Inn – The Hilton Garden Inn is located in Lawton and offers well-appointed rooms. There is also a restaurant, bar, and pool onsite.
La Quinta Inn – The La Quinta Inn in Lawton offers spacious clean and comfortable rooms at a very affordable price. Amenities here include a fitness room, indoor pool, and small business center.
Hampton Inn & Suites – The Hampton Inn has comfortable bedrooms with large bathrooms at very reasonable rates. Rooms come with free continental breakfast plus there is an indoor pool and small hot tub onsite.
Comfort Suites – Comfort Suites offers large modern rooms that come with a free breakfast. This property has a 24 hour fitness center, indoor pool, and lovely lounge area.
Apache Casino Hotel – The Apache Casino is a 3.5 star hotel with two restaurants, three bars, an outdoor pool, and hot tub. Rooms are large and the staff are extremely friendly and courteous.
Search For Hotels In Medicine Park
Read More On Medicine Park
Pin For Later!
What are you looking forward to seeing most in Medicine Park? Let us know in the comments below! If you have already been, please share what you thought were the highlights to help other visitors plan their itinerary.
Join our facebook travel group for weekly USA destination inspiration.