23 Best Things To See & Do – Oklahoma City Bucket List
Oklahoma City is surprisingly filled with many fun and exciting things to see and do, enough to fill up your travel itinerary for at least a few days. Whether you're looking for art and culture, more of a sports fanatic, or here for some summer fun, you will find an activity that suits you.
With its cowboy customs and heritage, Oklahoma City is a fascinating place to visit and will astound you with the number of attractions there are for a not so big city. Here are the 23 best things to do in Oklahoma City you should add to your bucket list.
OKLAHOMA CITY BUCKET LIST
---
1. Myriad Botanical Gardens and Conservancy
The Myriad Botanical Gardens and Conservancy is a 17 acre botanical garden and interactive urban park located in downtown Oklahoma City. The Gardens are home to multiple tiers of densely landscaped areas that surround a sunken lake.
The main attraction is the Crystal Bridge Tropical Conservatory, a 224-foot living plant museum featuring towering palm trees, tropical plants, flowers and waterfalls. This beautiful glass building is home to an astounding 750 varieties of plants! Whether you visit the Crystal Bridge Conservancy or not, the grounds of the Botanical Gardens are a must see.
2. National Cowboy & Western Heritage Museum
The National Cowboy & Western Heritage Museum in Oklahoma City is America's premier institution of Western history, art and culture. The museum collects and preserves an internationally renowned collection of Western art and artifacts to educate and promote interest in the legacy of the American West.
At the museum you will find a variety of permanent and temporary exhibits that explore Native and American heritages along with numerous activities for children. One of the best exhibits here is a replica of a turn-of the century cattle town featuring life-size buildings and rooms that guests may explore which transport you to the bygone era. The museum is open to visitors seven days a week.
3. Skydance Pedestrian Bridge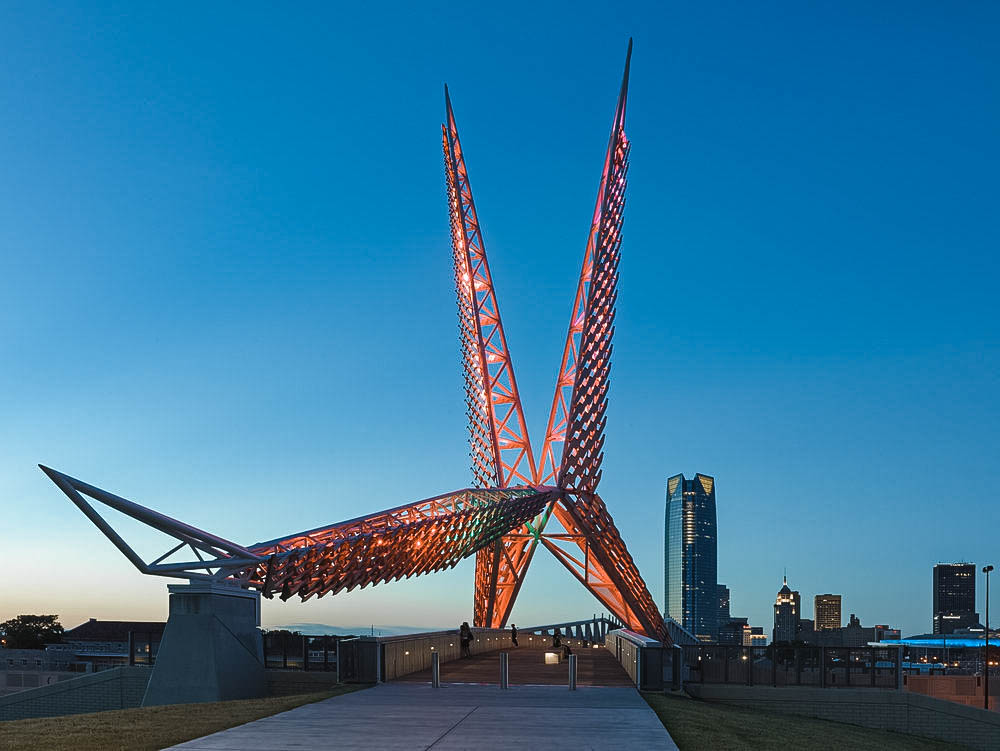 The Skydance Pedestrian Bridge is an iconic landmark in Oklahoma City and visitors from across the state and country travel just to see and photograph this magnificent structure. The bridge design was inspired by the 'sky dance' of the Scissor-tailed Flycatcher which is Oklahoma's state bird.
The 380-foot long pedestrian bridge soars over Interstate 40 with the sculptures wings reaching 185 feet into the air. The bridge is made of 412 tons of steel and is illuminated nightly by LED lights which are changed remotely for special events and holidays. The visually stunning structure is a beautiful sight for pedestrians and drivers alike.
4. Ferris Wheeler Park & OKC Sign
Ferris Wheeler Park is home to the former Santa Monica Pier Ferris wheel which was purchased on eBay in 2008 and transported to Oklahoma City. The Ferris wheel which stands 100 feet tall has been featured in films such as Titanic and Forest Gump.
From the top of the Ferris wheel you will see fantastic views of downtown Oklahoma City and Oklahoma River. You will also find the giant and iconic OKC sign which makes a great backdrop for your travel photos. You can visit Ferris Wheeler Park at the old downtown Air-Park on Western avenue. Tickets can be purchase as single rides, all day rides or as a season pass.
5. Bricktown District
The Bricktown District is one of Oklahoma City's biggest attractions and is a popular area with locals and visitor's. This thriving downtown area is home to over 45 restaurants, bars, and retail shops including Mickey Mantle's Steakhouse and the Bricktown Brewery.
Other attractions in the area include the Chickasaw Bricktown Ballpark, the Bricktown Canal, and a movie theater. Bricktown is one of Oklahoma City's biggest attractions and should not be missed.
6. Ride The Water Taxi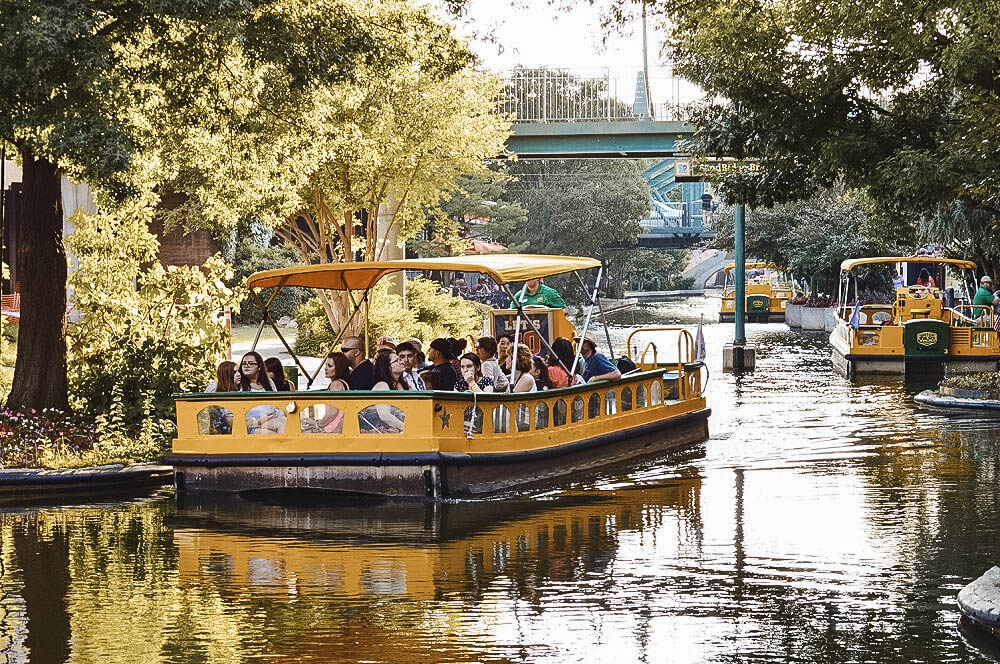 Enjoy the sights of Bricktown and downtown Oklahoma City on the Bricktown Water Taxi. On the water taxi you will learn about Oklahoma City's history and recent renaissance on their entertaining and historically themed cruises. Boats run continuously every 10-15 minutes and tickets are all-day passes. Riding round trip to the Boathouse District will take around 45 minutes however you are welcome to board and exit at any of the docks.
7. Catch A Dodgers Game At Bricktown Ballpark
The Chickasaw Bricktown Ballpark is home to Oklahoma City's minor baseball league team the Dodgers. The Dodgers have four league titles, two conference titles and thirteen division titles. Even if you are not fond of baseball the venue is still worth visiting to see the 7-foot tall bronze statue of Mickey Mantle which stands on a 3-foot granite base at the front of the pavilion.
8. Oklahoma City Zoo
If you love animals then you will love the Oklahoma City Zoo and Botanical Garden. One of the highlights of this zoo is Sanctuary Asia, a large habitat that houses Asian elephants, rhino's, Komodo dragons, red panda's, and more. Children will love getting up close with the animals in the children's barnyard and the giraffe feeding opportunity. The zoo also offers wildlife encounters with their grizzly bears, rhino's, elephants and sea lions.
9. POPS Soda Ranch
Just outside of Oklahoma City in Arcadia is POPS Soda Ranch, the soda mecca of America. POPS is an iconic stop on Route 66. The quirky store features a giant neon 66-foot tall soda bottle in front of the shop which is illuminated at night.
The store has an astounding variety of over 700 soda flavors that include bizarre and sometimes disgusting sounding flavors like peanut butter & jelly, maple bacon, sweet corn and buffalo wing. Don't worry, they still make classic soda flavors too.
10. Vast
The sweeping views of downtown Oklahoma City and surrounding land seen from the 49th floor of the iconic Devon Tower is what Vast is most known for, however this swanky establishment also happens to be the city's only AAA Four Diamond restaurant.
This fine dining eatery which sources their food from local producers offers a reasonably priced lunch buffet and a more pricey dinner menu, all worth it for the incredible scenery of the landscape below.
11. Osteology Museum
The Museum of Osteology displays over 300 skulls and skeletons from all over the world focusing on the form and function of the skeletal system. Skeletons range from small mice and porcupines to very large animals like elephants and whales. The museum which says they are the world's only skeleton museum is very hands-on and somewhere the kids will especially love while learning at the same time.
12. Factory Obscura's Mix Tape
Factory Obscura is an arts collective founded in 2017 to provide immersive art experience's and support arts education in Oklahoma City. The Factory Obscura Mix Tape is the first permanent installation by Factory Obscura and pays homage to the 1980's custom of creating music compilations on cassette tape to give others as a way to express emotion and garner friendship.
It's a fun and cool experience for all ages providing 80's nostalgia for those who lived through the era and for young children who will enjoy the slides, walls to climb and playing dress up.
13. Stockyards City
Immerse yourself in authentic cowboy culture at historic Stockyards City located in South-east Oklahoma City. The Stockyards district is home to the largest livestock market in the world and where you can watch a live auction if you plan your visit on a Monday or Tuesday.
There are many stores in this district along the main road where you can stock your wardrobe with authentic western wear or pick up Native American art and souvenir's.
If you're looking for somewhere to eat stop in at Cattlemen's Steakhouse which was featured on 'Man vs Food' and 'Diners, Drive-Ins & Dives' and follow up with some live music at the Rodeo Opry.
14. Attend a Thunder Game
If you love sports you should consider attending a Thunder game at the Chesapeake Energy Arena which is home to Oklahoma City's NBA team. The arena has a capacity of 18,203 seats and fills up entirely during home games. Apart from basketball, the arena has been used for many WWE events including Raw, Smack Down and Unforgiven. UFC and other fighting events regularly feature on the arena's calendar too. Look up Chesapeake Energy Arena's events calendar.
15. Lake Heffner
Not a true lake but a man-made reservoir but still a beautiful places to spend a few hours nonetheless. Lake Heffner is surrounded by over nine miles of trails where you can stroll the entire lake or go fishing for bass, bluegill and catfish.
16. Centennial Land Run Monument
The Centennial Land Run Monument commemorates the opening of the unassigned land in Oklahoma Territory with the Land Run of 1889. The Land Run took place on April 22nd, 1889 when a cannon was fired at noon and 50,000 people scrambled to lay claim to a piece of the two million acres available.
The spectacular monument which depicts the frenzied rush during the Land Run was created by artist Paul Moore. It is one of the world's largest bronze sculptures featuring 45 land run participants, horses and covered wagons as they race to claim new homesteads once owned by Native Americans. You can find the Centennial Land Run Monument in the Bricktown District of Oklahoma City.
17. Oklahoma City Museum Of Art
The Oklahoma City Museum of Art exhibits a collection of art pieces across three floors containing European and Latin American paintings and boasts a stunning array of towering blown glass installations and ensembles created by Dale Chihuly.
It's worth visiting the museum for the Chihuly exhibition alone with its extraordinary 55-foot colorful glass centerpiece. You can also catch independent and classic films in their Noble Theater from Thursdays to Fridays and dine at the Museum Cafe afterwards which offers French-inspired dishes and high tea.
The museum is open Tuesday to Saturday from 10am – 5pm and Sunday from 12pm – 5pm. Admission costs $9 for adults and $7 for children, students, and seniors.
18. Oklahoma City National Memorial
The Oklahoma City National Memorial is the infamous location of the April 19, 1995 bombing of the Alfred P. Murrah Federal Building which took 168 lives and changed the city's history forever. At the time this was the worst terrorist attack to take place on American soil and not only destroyed the Federal Building but also damaged 300 nearby buildings.
The memorial honors the 168 victims with empty chairs lined in a row for every life taken including nineteen smaller chairs for the children who died. The bronze Gates of Time remember the exact moment of the bombing at 9:02am and marks the formal entrance to the memorial. A reflecting pool helps to soothe wounds with its calming sounds.
You can also visit the adjacent Oklahoma City National Museum which pays tribute to the victims, survivors, and rescuers recounting that fateful day and following days with exhibitions and news footage that document the tragic event. The museum is open Monday to Saturday 9am – 6pm and Sunday 1pm – 6pm.
19. Cattlemen's Steakhouse
No visit to Oklahoma City would be complete without visiting the famed Cattlemen's Steakhouse. Located smack bang in the center of the Stockyards area of Oklahoma City, Cattlemen's Ranch can lay claim to being the oldest operating restaurant in the state of Oklahoma and the heart of this city's cowboy scene.
Cattlemen's Steakhouse has been featured on the Travel Channels "Man Vs Food" and on Food Networks "Diners, Drive-Ins and Dives". It is not only known for it's intriguing history but also for its terrific food, most notably their legendary steaks.
20. Attend a Horse Show
Oklahoma City is known as the "Horse Show Capital of the World" with more national and international equine championships events than any other city in the world. Watch real life cowboys and cowgirls rope, ride, and wrangle their way to the winners circle at the Oklahoma State Fairgrounds throughout the year. Many of the shows are free or very affordable and deliver plenty of action to keep everyone entertained.
21. Science Museum
The Science Museum is an educational experience with many interactive exhibitions and lots of other hands-on science displays. You can learn all about space and aviation or more about physics. You can learn how bridges are constructed and even build your own. The Science Museum is a fascinating place and fun for the whole family.
22. Frontier City
Frontier City is an amusement park in Oklahoma City that features more than 50 rides including four roller coasters. Guests can soar high above the frontier on Oklahoma's only suspended coaster, the Steel Lasso, or cool off in Frontier City's popular Wild West Water Works where the slides feature back-to-back turns, thrilling dips and 360° curves. The theme of the amusement park is the Wild West and there are regular Wild West gunfighter stunt shows.
23. Hurricane Harbor
Hurricane Harbor is a huge water park that features waterslides, raft rides and other family rides. One of the highlights of the park is the Mega Wedgie, a 277-foot long speed slide that has a 64-foot free fall section at the end of it. Besides the slides, the park also has 25 acres of pools to cool off in. If you're visiting Oklahoma City in the summer there is no better way to beat the heat then by heading to Hurricane Harbor.
More Articles On Oklahoma City:
Search Hotels In Oklahoma City