Best Things To Do Around Bricktown, Oklahoma City
Some of Oklahoma City's best attractions can be found in the Bricktown District. From really fun bars and great restaurants, to some of the city's most iconic attractions, you'll want to make sure you add a visit to Bricktown to your Oklahoma City travel itinerary. It's a popular destination for visitors and a favorite area of locals.
Bricktown is an area of downtown Oklahoma City that was once the industrial and warehouse district but has since been revitalized and evolved to become a lively place. Here you will find all sorts of entertainment and fun for everyone including restaurants, bars, sporting events, concerts and more.
Here's a quick guide to the area and some ideas on best things to see and do around Bricktown in Oklahoma City.
Things To Do In The Bricktown District
---
Stroll Along The Bricktown Canal
The Bricktown Canal is the center piece of the Bricktown District and there is no better way to get to know the area and see the sights of downtown Oklahoma City than by taking a leisurely stroll alongside it. You can watch the water taxis go by or stop and have a drink or meal at any of the fun bars and nice restaurants located beside it along the way.
The area is particularly pretty at night when it is lit with outdoor lighting and even more so during the Christmas period when there is a beautiful display of holiday lights.
Ride The Bricktown Water Taxi
Enjoy the sights of Bricktown and downtown Oklahoma City on the Bricktown Water Taxi. On the water taxi you will learn about Oklahoma City's history and recent renaissance on their entertaining and historically themed cruises.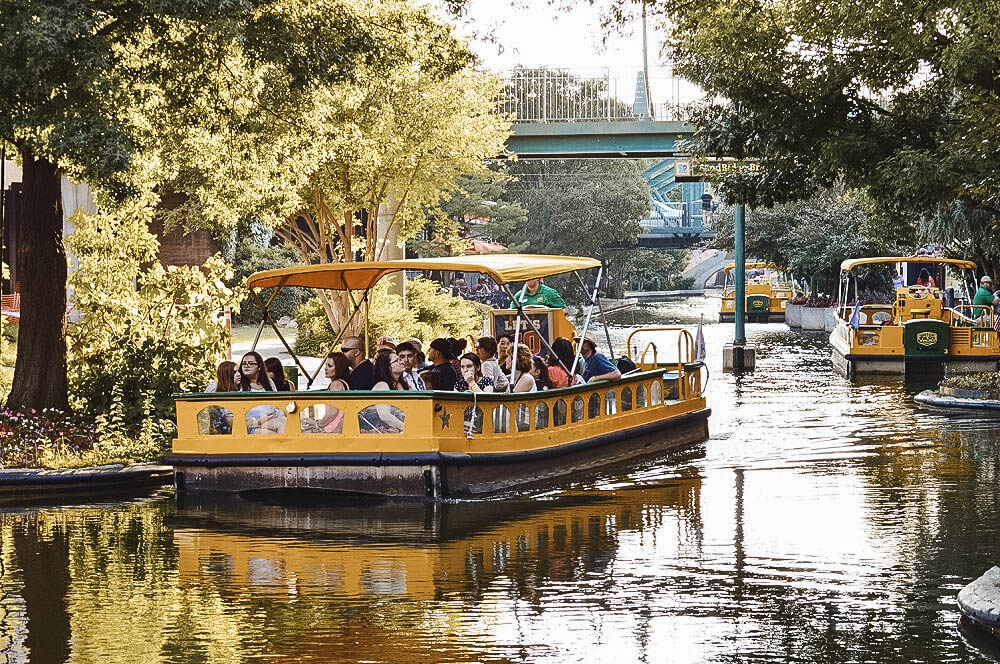 Boats run continuously every 10-15 minutes and tickets are all-day passes. Riding round trip to the Boathouse District will take around 45 minutes however you are welcome to board and exit at any of the docks. Basically it's just like a hop-on hop-off bus but instead it's a water taxi.
During the summer months the taxi operates seven days a week from 10 am to 10 pm and until midnight on Friday and Saturday nights. Fares are $11 for adult tickets and $8.50 for youth tickets.
Play A Game At Brickopolis
The Brickopolis offers visitors three levels of indoor and outdoor fun and games such as miniature golf and laser tag. On the canal level you will find arcade and redemption games along with a Lazer Frenzy Maze and Aeroball. You'll also find the Brickopolis Buffet which includes an unlimited pizza, salad and pasta bar.
On the street level of Brickopolis is the main entrance where entry tickets can be purchased as well as the Brickoplis Bar & Grill which has a full service bar. There is an outdoor patio were you can enjoy your meal or drink overlooking the Bricktown canal. On the third floor is the fully themed Lazer Tag and additional arcade and redemption games.
Other attractions here include the 'Klime Wall', a Bungee Trampoline, and a gemstone mining sluice. It's the perfect place to spend and afternoon or evening if you're looking for something fun to do.
Take In A Dodgers Game
Don't miss an opportunity to see an all-American baseball game at the beautiful Chickasaw Bricktown Ballpark. Watch the Oklahoma City Dodgers who are a AAA-affiliate of the Los Angeles Dodgers MLB team hit it out of the park any time between April and September.
This ballpark which can hold a whopping 9,000 Dodgers fans also regularly hosts the Big 12 Baseball Tournament as well as Bedlam games between the Oklahoma Sooners and the Oklahoma State Cowboys.
If you can't be here during baseball season the Bricktown Ballpark is worth a brief visit to see the 7-foot tall bronze statue of Mickey Mantle which stands on a 3-foot granite base at the front of the pavilion.
Visit The American Banjo Museum
The American Banjo Museum is another unique attraction you will find in the Bricktown district of Oklahoma City. The museum is home to the world's largest collection of banjos displaying over 400 individual instruments.
Here you can learn all about the history of this instrument's humble African roots to its current influences in the bluegrass, folk and jazz music scene.
At the museum you will also find recordings, film, video, printed music, instructional materials and memorabilia associated with the banjo. Galleries include replicas of primitive banjos developed by African slaves, actual Minstrel Age instruments from the mid-19th century to Classic Era banjos from the late 1800s and early 1900s.
The American Banjo Museum is open Tuesday through Saturday from 11 am to 6 pm and from 12 pm to 5 pm on Sunday. Tickets are $8 for adults, $7 for students and free for children under five years of age.
Catch A Film At Harkins Bricktown Cinema
If you're looking for a low-key way to spend your evening consider catching a flick at the Harkins Movie Theatre, the best cinema in Oklahoma City. The cinema has 16 screen rooms playing the latest and greatest films. If you happen to be visiting on a Tuesday night, you can catch a Tuesday Night Classic for only five bucks!
In addition, the Harkins Cinema has a lobby bar offering local wines, craft beer on tap from local breweries and handcrafted cocktails. All drinks purchased from the lobby bar are welcome inside the auditoriums.
If you are bringing your children but would prefer to see a film without them, there is a supervised Play-Center for children aged 3 to 8 years of age where the kids can play games, read books, enjoy toys or watch movies. Walk-ups are welcome for this service however reservations are recommended.
Go Shopping At Jumpin Jackalope Mercantile
Jumpin Jackalope Mercantile is the go to store in Bricktown for all things Oklahoman! This rustic goods store sells everything from jewelry to handmade fudge, artisan jerky, apparel, and more. Everything sold here is southwest inspired so it's a great place to pick up gifts for loved ones or something for yourself to remember your trip to OKC by.
Even if you're a local, you'll probably find yourself returning to this store time and time again because their home decor and clothing are just so cool! We just loved their t-shirts!!
Try Oklahoma Barbecue At Earl's Rib Palace
Earl's Rib Palace is a classic Oklahoma barbecue joint that you must visit when you are in the Bricktown District. At Earl's you can try Oklahoma style BBQ which here is seasoned with proprietary dry rub and then slowly smoked over the finest hickory kindling. The BBQ sauces come in 'Hot' and 'Not' which are made fresh daily!
Meats come by the pound and include smoked turkey, chopped brisket, sliced brisket, pulled pork, smoked chicken breast, slab of ribs, jalapeno sausage, polish sausage, and hot links.
You can also choose your meat as part of a dinner package which comes with your choice of two 'famous sides', 'Okie' toast, and something green. Sides include the usual BBQ suspects like mac n cheese, fried okra, baked beans, green beans, deviled eggs, cob corn and more.
They've also got a secret burger that is not on the menu, and whenever somebody orders it, staff holler "Burger Down". What arrives at your table is a bacon cheeseburger with grilled onions and jalapenos.
The meats here at Earl's are so mouthwateringly good that we just had to add it to this list under 'best things to do in Bricktown' rather than the 'where to eat and drink in Bricktown' section below.
Enjoy A Frozen Margarita At Fuzzy's Taco Shop
If you're looking for a nice cold drink to cool down in the summer heat while wandering around the Bricktown District, head to Fuzzy's Taco Shop! This Mexican restaurant offers the most wonderfully cold and delicious frozen margaritas that are guaranteed to make your taste buds tingle.
In addition to the classic frozen margarita, this establishment serves 'ritas in several tasty flavors, including some original creative ones. The frozen strawberry and mango layered margarita with tequila floater and sunken Dos Equis is terrific! But our favorite would have to be the Sunken Club Seltzer margaritas, in particular the 'Nooner', a frozen mango margarita with sunken peach seltzer.
Enjoy your margarita with your choice of tacos which include grilled mahi, shredded brisket, tempura shrimp, carnitas, fajita chicken, fried avocado, and more.
Where To Eat & Drink In Bricktown
---
Dining
There are a handful of really nice restaurants in the Bricktown area to suit everyone's tastes. Mickey Mantle's Steakhouse is a popular fine dining option. The restaurant boasts the most extensive Wagyu selection of any local prime steakhouse in the metro. Also on the menu is a selection of seafood dishes such as cedar plank salmon, pan-seared Ahi tuna, Alaskan king crab legs, and Australia cold-water lobster tail.
For cajun inspired dishes head to Crabtown whose menu features a variety of crab appetizers, crab dinners, seafood, steaks, chicken and pasta. Be sure to order one of their famous crab boils that are poured right onto your butcher-paper covered table.
For those of you with a sweet tooth be sure to stop by Pinkitzel to pick up a decadent treat for yourself. They sell the prettiest looking cupcakes and macaroons.
The macaroons come in delicious flavors from Earl Grey to Honey Lavender and Rose Lychee. There are too many incredible cupcake options to choose from including peppermint mocha, double truffle, pumpkin cake, and white chocolate raspberry.
Others worth mentioning are Texadelphia, a texas twist on Philadelphia's favorite sandwich and Bourbon Street Cafe, a Creole eatery.
Bars & Nightclubs
The Bricktown district has a fun nightlife with a variety of bars and nightclubs to choose from. If you're looking for a brewery head to the Bricktown Brewery.
The Bricktown Brewery has grown from a small micro-brewery into one of Oklahoma City's most popular hangout spots. They have a range of ales that include their classic offerings to seasonal specialties that they say have been concocted to mess with your mind. Whether you're into classic American IPAs, ambers, stouts, or fruity tasting beers, this brewery has your styles covered.
Another fun place to step out to is the Dollhouse. The Dollhouse is a lounge and burlesque club which is only open on weekends. Shows start at 9:30 and run every thirty minutes thereafter until 2 am with a DJ spinning tracks in between shows.
If nightclubs are not your scene head to Michael Murphy's Dueling Pianos. Their shows consist of three piano players who take the stage in rotations while performing request driven songs. The entertainers know over 1000 songs so feel free to throw any of your favorite tunes at them. Other fun places to grab a drink include Whisky Chicks and Coyote Ugly Saloon.
Read More On Oklahoma City:
Search Hotels In Oklahoma City
Join our newsletter and facebook travel group for more USA destination inspiration!