Visit Turner Falls Park And See The Tallest Waterfall In Oklahoma
Nestled in the Arbuckle Mountains is Turner Falls Park, the oldest park in Oklahoma. The park is well-known for its beautiful 77-foot tall waterfall — Turner Falls, but there are other unique things to see and fun things to do at Turner Falls Park that families, couples and roadtrippers will enjoy.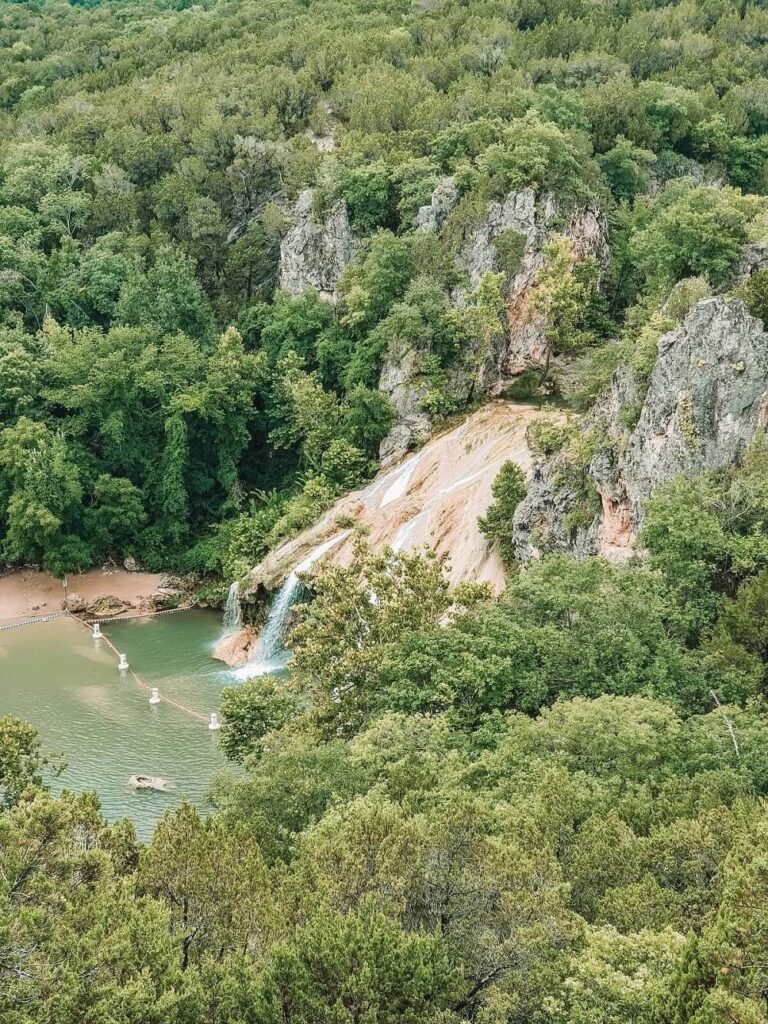 Located in South-Central Oklahoma, this 1,500 acre park offers stunning scenery, unique geology, and plenty of outdoor adventures. From swimming to hiking, spelunking and ziplining, you're guaranteed to have a fun day out when you visit Turner Falls Park!
While the waterfall is obviously the star attraction here, the main reason most visitors flock to Turner Falls is to take advantage of the park's two natural swimming holes. Honey Creek which runs through the park also offers visitors respite on scorching hot summer days.
But you don't have to get wet to have a good time at Turner Falls Park. There are several miles of nature trails here to stretch your legs on, as well as picnic areas beside the creek to enjoy the scenery.
If you're looking for quirky roadside attractions to visit on an Oklahoma road trip, there's even a European-style castle inside the park that is totally worth detouring to see!
Turner Falls Park has been a popular family destination for Oklahomans and Texans for years so don't for a minute think that this park is a low-key place. It gets extremely busy here during the summer so if it's peace and quiet you're after you'll want to time your visit during the off-season, or perhaps consider visiting nearby Murray Lake State Park instead.
Here's everything you need to know about visiting Turner Falls Park; from the best things to do, to the best time of year to visit, and where to base yourself if you want to explore the area further!
Fun Things To Do At Turner Falls Park
There are several fun things to at Turner Falls Park such as swimming, hiking, exploring hidden caves, and ziplining. Here is a quick guide to all of the things you can do here!
See Turner Falls
The star attraction at Turner Falls Park is of course Turner Falls! This 77-foot waterfall is actually the tallest waterfall in Oklahoma!! Since waterfalls are few and far between in Oklahoma, especially one of this size, it's kind of a big deal in the Sooner State.
For this reason, Turner Falls absolutely deserves to be on every Oklahoma bucket list!
Turner Falls drops into a big pool which is one of the most popular swimming holes in the park. And rightly so. Who wouldn't want to swim next to a beautiful waterfall!
But don't worry, you don't have to swim in the pool to get up close to Turner Falls because there is a short trail that will take you right beside it! Although there is a viewing platform in front of the waterfall that offers great views, I suggest making the effort to see the waterfall up close from next to it too.
Wade In The Waters of Honey Creek
Honey Creek has several wading pools which make it the perfect location to dip your toes in the water to cool off on those hot and humid summer days. And because the water is so shallow in these wading pools, Honey Creek is also the most kid-friendly place to swim at Turner Falls Park.
Keep in mind that besides seeing Turner Falls, the second most popular reason to visit this park is to swim so you can expect Honey Creek to be crowded throughout summer, particulary on weekends.
Take A Swim In The Blue Hole Pool
Another natural pool you can swim at in Turner Falls Park is the Blue Hole Pool. The Blue Hole Pool is where the older kids like swimming the best since the pool is deeper here.
There are other reasons the kids (and some adults) will enjoy swimming at the Blue Hole such as being able to jump off a diving board and sliding down a waterslide into the water.
Something to be mindful of when swimming at the Blue Hole Pool and anywhere else in the park is to be very careful walking on the rocks near the water because the rocks here are very slippery and slimey. Unfortunately accidents are not a rare occurence at Turner Falls Park and there have been several drownings here in recent years. For this reason all children under twelve years of age must wear a coast guard approved life jacket.
Hike At Turner Falls Park
There are three hiking trails at Turner Falls Park; Fire Break Trail (0.5 miles), Honey Creek Trail (1 mile), and Two Mile Trail (2 miles). All of these hiking trails are easy and suitable for all fitness levels.
If you only have time for one hike, I recommend the Two Mile Trail since it covers the park's highlights. This hike involves climbing up steep stairs that have been carved into the side of a mountain. The staircase will take you up to the ruins of an old castle before continuing onto the top of the mountain where you can enjoy views of Turner Falls from high above!
From there you'll walk along a paved road before getting back onto a dirt trail that will take you through bushland. Keep your eyes peeled for wildlife such as white-tailed deer and wild turkeys along the way. Here is a map of the park showing hiking trails.
Explore Collings Castle
At Turner Falls Park you can explore the ruins of an old castle! The castle, named Collings Castle, is an example of Old-English architecture and was built in 1930 using local stone. This stone mansion was used as a private residence by Dr. Ellsworth Collings, a professor at Oklahoma University.
Although the castle is now partly in ruins, it still is quite an impressive sight! Especially because it's not something you expect to see in the state of Oklahoma.
The multi-level castle was built into the side of a small mountain. There is a very steep staircase that you will need to hike up to reach the castle, but it's not very long at all and anyone can do it. Once you reach the castle, feel free to wander through the different empty rooms. Be sure not to miss climbing to the castle's rooftop to see sweeping views of Turner Falls Park.
Visitors are free to explore Collings Castle at any time during park operating hours. It's a fascinating piece of art that is definitely worth adding to your Oklahoma bucket list.
Read: Explore Castle Ruins At Turner Falls Park In South-Central Oklahoma
Go Ziplining At Turner Falls Park!
If you're a thrillseeker, you won't want to miss the ziplining experience at Turner Falls Park! The 777 Zip ride will take you soaring across the sky to a point that is 130 feet above Turner Falls. You'll then spend several seconds dangling in the air before being catapulted back to the landing area.
The exhilerating ride travels 777-feet from a platform above Turner Falls Park to a tower above the waterfall, hence the name of the attraction. While you're in the air you can take in once-in-a-lifetime views over Turner Falls Park and the surrounding Arbuckle Mountains.
Just so you know, this isn't a true zipline but instead more of a sit-down type ride. It can seat two people but individual riders are fine to ride alone too. Any age is welcome to ride but riders must be at least 42 inches tall.
The 777 Zip is located just outside of Turner Falls Park so you won't have to pay an entry fee to the park if you only want to go ziplining. No reservations are needed so feel free to just show up! You can purchase tickets inside the Curio Shop which is located on Highway 77 next to the Turner Falls Overlook.
Try A Pie From Arbuckle Mountain Fried Pies
Although technically not inside the park, a visit to Arbuckle Mountain Fried Pies is a must whenever you're in their vicinity! And since the flagship store is located just outside Turner Falls Park on Highway 77, you absolutely shouldn't miss stopping by.
If you haven't had pies from these guys before, you're in for a life-changing experience because they make THE BEST sweet and savory fried pies in the country!!!
Their fruit-filled pie flavours include peach, cherry, blueberry, pineapple, coconut, apricot, and more! As for savory pies, I recommend the bacon and egg pie and the Tex-Mex pie.
Arbuckle Mountain Fried Pies are perfect for breakfast, lunch, dinner and dessert! Be sure to pick up a couple on your way into or out of the park!!
Where Is Turner Falls Park?
Turner Falls Park is located in Chickasaw Country, a territory that spans from Oklahoma City to the Texas border. This park lies in the heart of the Arbuckle Mountains which are the oldest mountains in the United States between the Appalachian and Rocky Mountains.
The park makes a fun day trip destination from Oklahoma City since the drive is just a little over an hour. It's also possible to visit Turner Falls Park from Dallas as a day trip since the drive is only two hours. Whichever direction you are coming from, you'll need to hop on the I-35 and take the exit for Highway 77 at Davis, Oklahoma.
If you're looking for road trip ideas, take a look at this Dallas to Oklahoma City driving itinerary for other awesome destinations in Chickasaw Country you can visit along the I-35.
Best Time To Visit Turner Falls Park
Turner Falls Park is open every day of the year! Summer is the most popular time to visit because it's an excellent place to cool off when the weather in Oklahoma gets overwhelmingly hot and humid. However it gets so busy during the summer that admission tickets often sell out, especially on weekends!
If you plan to visit during summer, I recommend visiting on a weekday if possible. It will be a much more pleasant experience and you won't have to deal with large crowds. Believe me, this park gets packed full of people on hot summer days!
You should consider buying park admission tickets online in advance if you choose to visit on a weekend during the summer months to make sure you don't miss out on visiting.
In my opinion the best time to visit is during autumn because Turner Falls Park surprisingly has fantastic fall foliage. The Arbuckle Mountains are stunning when tree leaves turn orange and gold in color and look particularly amazing in contrast to the waterfall's pretty green hues.
Spring and winter can also be good times to visit because of fewer crowds and cooler temperatures. Cooler temperatures are much better for hiking in the park!
Helpful Planning Tips For Visiting Turner Falls Park
The park's hours are 7am to sunset. There is an admission fee per person and it costs more to visit in summer and on weekends. In summer, weekeday rates cost $16 and weekends $20. In winter, weekday rates cost $9 and weekends $12.
There are three different parking levels but only Level 3 is free. Levels 1 and 2 require a parking pass which costs $20 and $10. You can purchase your parking permit online in advance to guarantee a spot when you arrive.
Summers are extremely busy at Turner Falls Park! The park fills to capacity quickly on weekends so if you want guaranteed admission be sure to purchase your tickets online here.
Camping is permited at Turner Falls Park. Camping rates are $20 per vehicle and RV sites are $25. See camping guidelines and RV guidelines for more information.
The park also has eight rustic cabins to rent. Cabins have two full-size beds and a full bathroom. Amenities include linens, a small refrigerator, microwave, coffee pot, and a stove top. You must bring your own kitchen utensils, bathroom supplies, and towels. Learn more here.
Life jackets are mandatory for all children under 12 years old. The park does not have life jacket rentals so be sure to bring your own if you're bringing your kids. There are life jackets you can buy at the park's Trading Post store but keep in mind they are expensive here. You can purchase Coast Guard Approved life jackets here.
No pets are allowed in the park!
Where To Stay At Turner Falls Park
Turner Falls Park is an easy day trip from both Oklahoma City and Dallas but because there are so many cool things to do in Chickasaw Country, you might want to consider staying in the area for a few days longer to explore the area.
The park offers camping for both tents and RVs. In addition there are eight rustic cabins onsite that visitors can rent too. You can also search for cabins near Turner Falls Park because there are a few cute and very affordable options like this cozy cabin overlooking Honey Creek.
Personally, I recommend staying at the Artesian Hotel Casino & Spa in Sulphur which is located about 15-miles from the park. This classy hotel's amenities include a great restaurant and bar, a 1950's-style diner, and a terrific indoor/outdoor pool which I absolutely loved using every night during my stay!
Pin For Later!