20 Really Cool Things To Do In Twin Falls
For such a small city, there is an abundance of really cool things to do in Twin Falls including phenomenal scenic attractions that you must see!
This beautiful city in south-central Idaho is most famous for its star attraction Shoshone Falls but there are so many other hidden gems here to discover.
Twin Falls is the gateway to exploring the Snake River Canyon whether it be from land or on the water and you'll find several hiking trails that offer breathtaking canyon views as well as numerous places to enjoy the river.
There are also countless waterfalls, soothing hot springs and numerous outdoor recreation opportunities that await you. Whether you are looking for adventure or relaxation, Twin Falls has something for you.
The good news is that many of the top activities are completely free things to do in Twin Falls. And if they're not free, they are under ten dollars or whatever it costs in gas to get you there so it's also an inexpensive destination to visit in Idaho.
While Twin Falls is a popular stop on driving itineraries to Yellowstone National Park or road trips between Salt Lake City, Boise and Portland, it is also a destination in its own right and you could easily spend an entire weekend in Twin Falls and not run out of things to do.
In fact, there are so many amazing places you can day trip to from Twin Falls that you could easily stay here for an entire week while you explore other places and top attractions in Southern Idaho like Craters Of The Moon National Monument & Preserve.
Twin Falls has become such a favorite destination of ours that we try to visit several times a year.
Take a look at this long list of the best things to do in Twin Falls to decide how long to plan your trip for. I guarantee once you are done reading this you might consider extending your vacation.
20 Best Things To Do In Twin Falls
---
Walk Across The Perrine Bridge
Walking across a bridge might not normally sound like an exciting activity but in Twin Falls it most certainly is! The Perrine-Coulee Bridge in Twin Falls is one of the highest bridges in the United States and I guarantee walking out to the middle of the bridge will get your heart racing!
For those of you who are afraid of heights this might be a little too much to bear but at the very least try to walk a short section of it because the views from the bridge are incredible.
If you're someone who isn't afraid of heights, more than likely the walk across the bridge will still scare the socks off you because the walkway is so narrow that the cars are basically only an arms length away. Yeah, these cars are zooming past at high speeds that will get you nervous for sure.
So is it safe then? Um, well I'm not exactly sure. It didn't feel safe but it sure was exciting!
Watch Base Jumpers Dive Into The Canyon
If the walk across the Perrine Coulee Bridge didn't freak you out, watching the base jumpers take off from the bridge will certainly get your heart pounding.
Even though it is not you who is actually jumping, the incredible opportunity you have in Twin Falls to be able to see these dare devils do their thing from above either along the bridge or from the canyon rim is an amazing experience. I know my heart kept leaping into my throat each time I saw someone jump.
It was so cool being on the same level as the base jumpers while they glided down into the Snake River canyon. I am not aware of any other places where you can stand right next to base jumpers before they leap so be sure to add this to your list of things to see in Twin Falls. Oh, and if you do know of anywhere else please let us know in the comments!
The instagram video above was filmed by Jän Verhaeren, a professional drone videographer who films base jumping. We met him while we were watching the base jumpers on one evening while we were in Twin Falls.
His drone operation skills are incredible and he even builds his own drones would you believe! He is most certainly a remarkable character and I think we enjoyed watching him more than the base jumpers. Hopefully you'll run into him on your trip to Twin Falls.
Want to try base jumping yourself? You can experience base jumping off the Perrine Bridge by organizing a tandem base jump with Tandem Base.
Walk Behind The Perrine Coulee Waterfall
Perrine Coulee Falls is another iconic landmark in Twin Falls that you must see! One of the best things about this waterfall is that it's right in town, not too far from the Perrine Bridge which means it won't take up much of your time to visit.
But that's not all! This waterfall is unique because you can actually walk behind the waterfall on a narrow trail along a cliff edge. This trail that leads behind the waterfall offers spectacular views and a different perspective on the Snake River Canyon.
I don't know about you but I always find it thrilling to walk behind waterfalls. As silly as it seems, there is something very delightful about being up close to the spray of a waterfall and getting a little bit wet.
It can also be a nice relief from the heat when you are visiting Twin Falls in the summer when temperatures soar into the nineties.
Getting to the trail that goes behind the waterfall can be a little bit tricky but only because parking near the trail head is limited. Find out where the trail head is here.
There is also an overlook of the Perrine Coulee Waterfall that you can get to from the Canyon Rim Trail. The view from above is just as cool as from behind the waterfall so if you don't have time to wait for a parking spot, head to the above overlook of the waterfall.
This waterfall flows year-round so anytime is a good time to see it.
Take A Stroll Along The Canyon Rim Trail
The Canyon Rim Trail is a paved walking trail that runs for twelve miles along the Snake River Canyon's ledge. There are outstanding scenic views of the Snake River and canyon along the entire stretch of the trail.
I suggest parking at the Twin Falls Visitor Center and beginning the trail there where you can first visit the Perrine Bridge and watch base jumpers leap off the bridge, then follow the trail west to get a bird's eye view of Perrine Falls.
If you are feeling a little on the hungry side or in need of an alcoholic beverage, there are several restaurants and bars you can stop into along the trail such as Elevation 486.
The scenery along the Canyon Rim Trail is beautiful no matter what time of day it is, but we have found out that the views are extra special around sunset.
Have A Romantic Lunch Or Dinner Overlooking The Snake River Canyon
If you're looking for a place to have a romantic lunch or dinner, or just somewhere a little extra special to remember your trip to Twin Falls by, look no further than these two restaurants that sit on the Snake River Canyon's rim; Redhawk at Canyon Crest and Elevation 486.
Both of these restaurants sit on the edge of the Snake River Canyon offering spectacular views that overlook the Snake River, Centennial Park and the Perrine Bridge.
But the views aren't the only thing to look forward to at these two restaurants. They both have great food and drinks too!
Redhawk is located closer to the Perrine Bridge and has a large terrace that is perfect for relaxing on summer evenings. On the menu you'll find gourmet burgers like the loaded beer cheese jalapeno burger and pork belly with smoked bleu cheeseburger. They've also got pasta, cod, and a wide range of delicious mac & cheese options.
One of our favorite things about this restaurant is the dessert cocktails. We loved the walnut old fashioned which is made with bourbon, maple syrup, and walnut bitters, and the loaded coffee.
If it's too hot to sit outside on the terrace, this restaurant also has bar seating (there are 28 beers on tap here) and private booths available.
Elevation 486, named after its elevation above the Snake River Canyon floor, is another terrific restaurant with stunning views of Twin Falls and the Snake River Canyon.
This restaurant is open for lunch and dinner and offers a wide ranging menu from Kobe meatloaf, to Asian noodles, rib-eye, lamb, King salmon, trout, and even quail. They also have a well-stocked wine bar.
While we haven't had everything on the menu, we have tried the seafood linguine and burgers which were great! However, our favorites thing on the menu here so far is the homemade tomato and basil bisque.
Hike Down To Box Canyon State Park
Box Canyon is a secluded place where crystal clear water seeps from rock walls into a brilliant blue pool. The spring water flows at a rate of 180,000 gallons per minute making it the 11th largest spring in the United States!
Who would have thought that Idaho could have springs that rival Florida?!
The light blue waters of the pool and surrounding lush vegetation can be viewed from an overlook at the rim of Box Canyon. The spectacular view is a mind blowing contrast between the flat, dry, and featureless farmland above seen against tropical blue water amid thriving plant life that grows at the bottom of the wide chasm.
Box Canyon is just one of six units that make up Thousand Springs State Park and is located near Wendell which is only a short thirty minute drive from Twin Falls. Getting to this state park is an adventure in itself as the drive takes you through local farming communities that you otherwise wouldn't see traveling along Interstate-84.
When you arrive at Box Canyon State Park you'll more than likely assume you have arrived at the wrong destination because the trail from the parking lot to the canyon overlook seems so dreary and like nothing of interest could possibly be in the vicinity.
But what appears to be just a flat trail through farm land eventually leads to a canyon ledge where you can peer down into a sparkling clear blue spring. The big blue pool looks magical and knowing that an astonishing amount of water is coming out of the canyon walls makes it even more impressive. The water from the pool winds through the canyon and spills into the Snake River.
If you're visiting during summer you might be wondering if you can swim in this magical pool. Well, you sure can! And it's one of our favorite things to do whenever we are visiting Twin Falls.
Apparently there is a way to scale the canyon wall from the overlook of Box Canyon however we weren't game enough to try this. Instead, we hiked the trail that starts further along the canyon ledge which has a more established trail that leads down to the canyon floor.
Once you get down to the bottom of the canyon floor you'll find several spots that are good for swimming so be sure to pack your swimwear and a towel if you're interested in hiking down. See below for our guide to visiting Box Canyon.
Chase Waterfalls In Twin Falls
Twin Falls has enough waterfalls within its fifty mile radius to keep you busy enough for an entire day chasing them. If you happen to be a waterfall fanatic then this is the perfect place for you!
Starting in Shoshone Falls State Park, check out Shoshone Falls first and then make your way back into town to see the Perrine-Coulee waterfall.
Then you have the option to kayak out to see Pillar Falls but if you don't feel like getting on the water, get in your car and drive out to find the following waterfalls; Twin Falls, Cauldron Linn Falls, Auger Falls, and Minnie Miller Falls.
There are many more waterfalls around here then what is mentioned above and I'll write a new post on the waterfalls surrounding Twin Falls soon.
Take A Trip To Shoshone Falls State Park
Shoshone Falls is one of the top attractions in Idaho and the pride of Southern Idaho so be sure not to miss seeing this incredible natural wonder while you're in Twin Falls.
Nicknamed the Niagara Falls of the West, this spectacular waterfall is actually forty feet higher than the famous east coast waterfall, although not quite as wide.
The impressive waterfall is created by the Snake River plunging 212 feet over a horseshoe-shaped cliff which can be seen at Shoshone Falls State Park. There is an observation deck which allows you to get extremely close to the cascade and take epic photos.
There are also some short hiking trails inside the park and many suitable spots for picnics, as well as places to go swimming and fishing.
Shoshone Falls State Park is located three miles northeast of Twin Falls. Expect the park to be crowded during weekends and holidays.
Go For A Swim At Dierkes Lake
Dierkes Lake is the perfect summer destination if you are looking for somewhere to escape the heat in Twin Falls.
The 171 acre park has a fantastic swimming beach area as well as a beautiful grassy park where you can relax under the shade of the trees. You'll also find BBQ facilities, picnic tables, and a restroom at the park.
This is a popular place to go swimming with local residents so you can expect it to be very busy here on weekends and holidays. There is a floating dock that you can walk along, or sit on and dip your legs into the water while you take in the pretty views. A lifeguard will be on duty between June and August.
Another popular activity here is to go kayaking and paddle boarding so if you have got your watercraft with you, feel free to take them out.
Dierkes Lake is located inside Shoshone Falls State Park just upstream from Shoshone Falls. This means you will need to pay a $5 fee to enter but it also includes entry to the state park. Entry to Dierkes Lake is free in winter.
Read: Dierkes Lake: The Perfect Place To Go Swimming & Kayaking In Twin Falls
Check Out The Evel Knievel Jump Site
Evel Knievel was a stuntman and daredevil who became an icon in the 1970's for his daring motorcycle stunts. He attempted one jump after another with each one becoming more formidable.
In his quest to find more daring and dangerous jumps, Knievel asked the Department of Interior if he could jump over the Grand Canyon but his request was denied. Undaunted, he set his sights on Idaho's Snake River Canyon where he spent two years preparing for the undertaking.
Unfortunately his attempt to launch (which took place on September 8th, 1974) over the Snake River Canyon failed because his parachute deployed early interrupting his momentum, but saving him from a fatal crash into the canyon.
The mound which was used as the launch site is still visible and visitors can hike out to the spot which is located at the south rim of the Snake River Canyon just west of Shoshone Falls.
Although another stunt motorcyclist succeeded where Evel Kneivel failed, this spot has always been associated with Knievel's famous failed jump.
Visit Malad Gorge State Park
Malad Gorge is another hidden gem in the Twin Falls area that hides in plain sight! This really cool geologic wonder does not require any hiking, kayaking, or paddle boarding to see it because the gorge sits right beside Interstate-84.
There is a steel footbridge that spans the gorge allowing visitors to walk across and stand in the middle of the 250 foot high canyon. On one side of this footbridge you can look out and see the turquoise colored Malad River wind over large basalt rocks, and on the other side of the bridge you can peer down and see the Devil's Washbowl, a thundering waterfall that churns through a retreating cataract before plunging into the canyon below.
The spectacular chasm is located inside Malad Gorge State Park and is only a short thirty minute day trip from Twin Falls. You could also stop by to visit Malad Gorge on your drive between Boise and Twin Falls.
Kayak Or Paddleboard On The Snake River
For a really adventurous way to spend your day in Twin Falls, rent a kayak or standup paddleboard from AWOL Adventure Sports and get out on the Snake River! Not only is it fun but you also gain a new perspective on the landscape because the canyon walls tower above you instead of being below you.
You can paddle underneath the Perrine Bridge and if you're lucky you might get to see BASE jumpers launch above you.
After paddling to the Perrine Bridge you can keep going to Pillar Falls, a waterfall just upstream from the bridge but before Shoshone Falls.
Kayak and paddleboard rentals are available from Centennial Park throughout summer. No reservations are required.
Go Ziplining In Centennial Park
If you've always wanted to try ziplining this is your chance to give it a go! AWOL Adventure Sports (the company who also rent out kayaks and paddleboards) offer ziplining in Centennial Park.
There are four zip courses where you can race 45 miles per hour through the Snake River Canyon. The final zipline is 1750 feet long which is longer than the Perrine Bridge.
Even if you have been ziplining before, this experience will still be exhilarating because of the unique location.
Find The Tropical Blue Waters Of Blue Heart Springs
One of the most magical places in all of Idaho is Blue Heart Springs. This incredible oasis has the clearest tropical blue water that will have you wondering how on earth is this place in Southern Idaho!
The secluded lagoon can only be accessed by boat or other watercraft which makes this hidden spring an exclusive location that only the most adventurous travelers make the effort to visit.
If you want to visit Blue Heart Springs you don't need to have your own kayak as you can rent one from Banbury Hot Spring and paddle up the Snake River to this secret destination.
Road Trip Along Thousand Springs Scenic Byway
If you love road trips this is a great one because you can take in many of the sights mentioned above plus more in a single day! If you are coming from Boise, the detour via highway 30 is a fun way to reach Twin Falls.
This road trip will take you through cute small towns, interesting geological features, and to all three units of Thousand Springs State Park.
You can also visit a fish hatchery along the way, soak in hot springs, or find somewhere along the Snake River to go for a paddle. You can make this road trip as adventurous or relaxing as you like.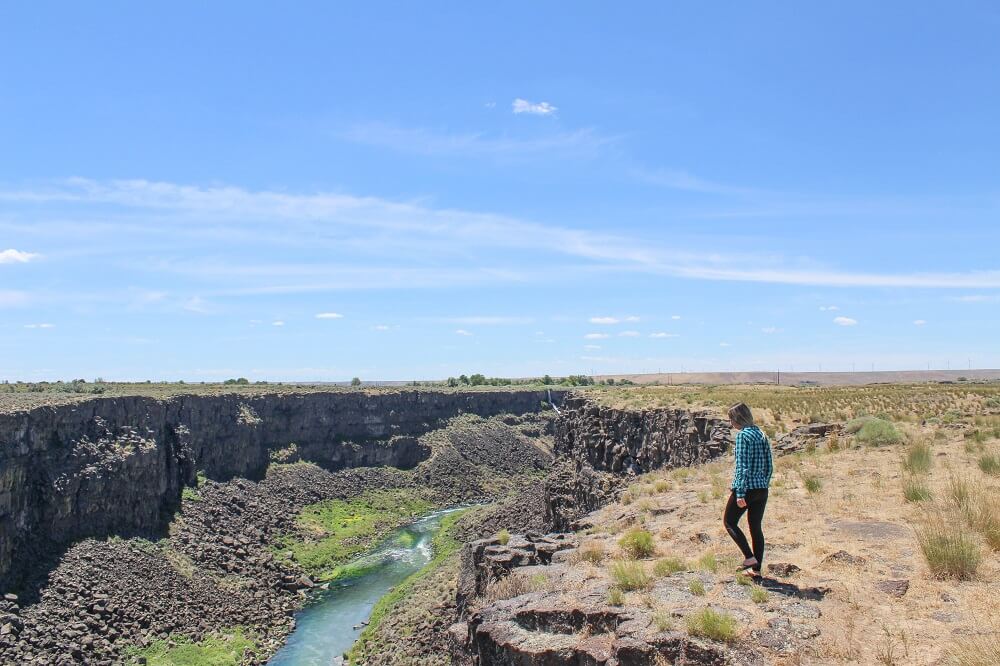 The drive is only 67 miles and yes, it is easily completed in a day but if you have the time turn it into an overnight!
There are three campgrounds along this stretch that we highly recommend staying at and some other unique lodging too which you can learn more about in this Thousand Springs Scenic Byway driving itinerary.
Soak In Soothing Hot Springs
If relaxing in a hot spring is your idea of fun you'll be pleased to know there are several opportunities for you to soak and soothe your troubles away in Twin Falls.
The two most popular hot springs near Twin Falls are Miracle Hot Springs and Banbury Hot Springs both of which are located in Buhl about 40 minutes drive from Twin Falls.
Miracle Hot Springs has four large outdoor pools of varying temperatures and several smaller private soaking pools that are first come first served.
Banbury Hot Springs is located across the highway from Miracle Hot Springs and has just one large outdoor hot spring which is kept at 100 degrees in addition to several smaller private pools. The main pool has a diving board and large log floating in the pool for kids to play on.
We have camped at Miracle Hot Springs before and it was really nice to be able to go for a soak in the evenings after a long day of adventuring.
Where To Stay In Twin Falls
Hotels In Twin Falls
Hopefully this trip to Twin Falls is more than just a brief stopover for you because as you can see from the list above there are plenty of things to do in Twin Falls!
Twin Falls is a very affordable city to visit and most of the hotels here have very reasonable rates. There are several nice hotels within walking distance to the top attractions in Twin Falls like the Hilton Garden Inn and TownePlace Suites by Marriott, both of which are close to the Canyon Rim Trail and restaurants that overlook the Snake River Canyon.
The Hampton Inn and Holiday Inn are close to the Perrine Bridge and walking distance to big chain restaurants like Applebee's, Texas Roadhouse and Chick-fil-A.
If you'd prefer to stay out on Interstate-84 to hit the road early in the morning, stay at the Comfort Inn or Sleep Inn & Suites in Jerome.
RV Parks & Camping In Twin Falls
The closest RV Parks and campgrounds to Twin Falls is the KOA in Jerome which also has several cabin rentals, the Oregon Trails Campground in Kimberly, and the Twin Falls 93 RV Park in Filer.
You should also look into staying along Thousand Springs Scenic Byway at Miracle & Banbury Hot Springs who offer campsites right along the Snake River and are closer to Thousand Springs State Park.
Search For More Hotels In Twin Falls
MORE ON IDAHO
Pin For Later!
Join our facebook travel group for weekly USA destination inspiration!