Box Canyon State Park: How To Hike Down To Box Canyon & Where To Swim
Box Canyon State Park is just one of the five units that make up Thousand Springs State Park. This natural wonder is a hidden gem in Idaho's greater Twin Falls area and really must be seen to be believed!
Hidden amongst the flat farmland and dairy pastures is a secluded canyon where crystal clear water seeps from rock walls into a brilliant blue pool where it then flows out towards the Snake River. This spring flows at a rate of 180,000 gallons per minute making it the 11th largest spring in the United States!
Box Canyon spring flows at a rate of 180,000 gallons per minute making it the 11th largest spring in the United States!
You will notice Water Veronica (a bright green plant) growing in the blue pool which is an indicator of stream health and tells us that the water here is very pure.
So how do you get to Box Canyon and where is the best place to view this incredible natural wonder? Well, you can type Box Canyon State Park into google maps which will take you through agricultural land to a small parking lot in Wendell.
This parking lot is easy to miss, especially if no one else is here yet so keep your eyes peeled for a small sign letting you know you have arrived at Box Canyon. There are two parking lots, one right off the road, and another past the sign about 3/4 of a mile down a dirt road.
At first it may seem like there couldn't possibly be anything impressive in the vicinity but after a short walk you'll see the land open up and at the bottom of this wide chasm is a sparkling pool of light blue water.
It's a mind blowing contrast seeing the flat and featureless farmland against the lush plant life growing below, crystal clear water winding through the canyon, and abundant birdlife.
Once you're done taking in the views and snapping some pictures prepare to be even more impressed once you get down to the canyon floor.
How To Hike Into Box Canyon
After parking your vehicle at the Box Canyon Springs trailhead, make your way across a large flat field along the well-trodden path.
In the distance you'll notice fencing around private lands which might make you think you are going in the wrong direction, but I assure you this is the right way.
You will soon see along the fence there is a small ladder that allows you to climb over the fence without having to hurt yourself.
Climb this fence and continue walking along the trail that follows the canyon rim for about 0.5 miles. Eventually you will get to a place where you can hike down the canyon rim along a series of short switchbacks.
Be careful going down the rocky switchbacks. There is a steel cable handrail bolted into the side of the cliff to help you with your balance. The trail here is steep but short and it won't be long before you reach the canyon floor.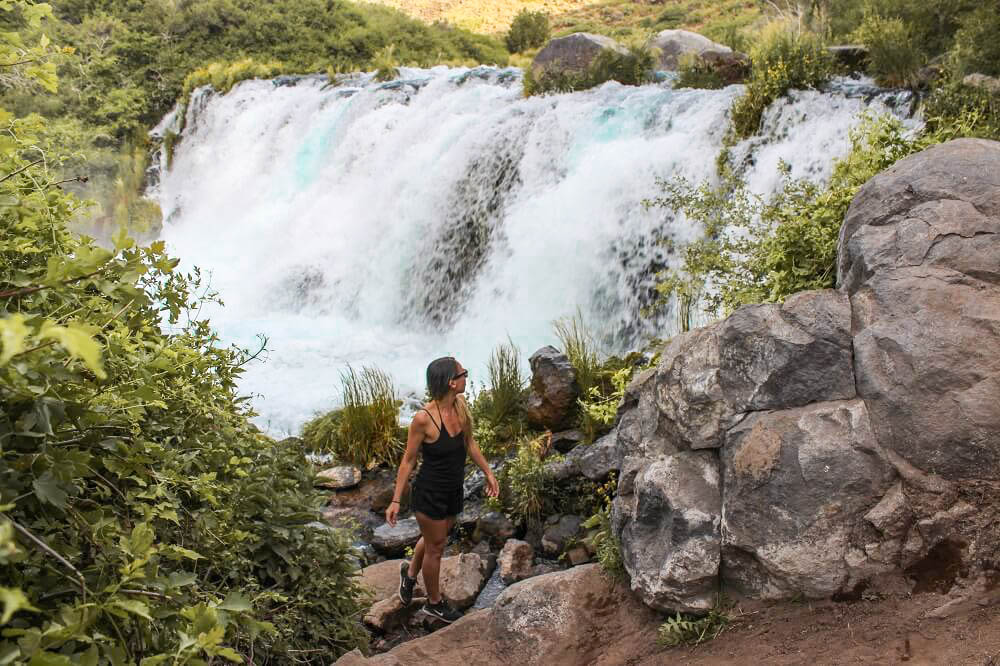 Once you reach the canyon floor the trail becomes very easy and is flat the majority of the way.
From here follow the narrow trail as it leads you through some thick bush where it eventually leads to a beautiful gushing waterfall.
The waterfall is a luminescent blue and you can stop to view it from several places including it's base. Hopefully you brought your camera as this is definitely one of the best waterfalls in the Twin Falls area.
If you're short on time, you can turn around here but for some more adventuring keep hiking a few minutes more to see the canyon floor open up and for more opportunities to enjoy the spring water.
Where To Swim In Box Canyon
There are several spots in Box Canyon that are good for swimming. After hiking down into the canyon, keep walking until you reach the waterfall and then keep going until you walk over a wooden bridge to get onto the other side of the river.
Once on the other side, keep walking until you reach a small sandy beach section beside the river. This is a good place to get into the river but if it is already taken, there is another 'beach' section if you keep walking a little further down.
Otherwise, if you just want a spot to quickly jump in and cool off before making the trek back up, keep an eye out for suitable rocks to jump off closer to the wooden bridge. There are several good places, but you'll need to keep an eye out if the grass is overgrown.
Keep in mind that the water here is incredibly cold and it will certainly take your breath away when you first get in. If you are lucky you might spot a cute trout or two swimming beside you. This is definitely a good place to bring snorkeling gear because the water is so clear.
This is an out and back trail so when you are done enjoying the canyon floor you will need to hike back the same way you came down.
If you happen to be leaving in the late afternoon, be sure to hang around for sunset because it is extremely gorgeous seen from the overlook of Box Canyon.
Tips For Hiking Into Box Canyon
Try to visit during the week to avoid crowds.
If visiting on a weekend, get there early to get a parking spot.
Remember to pack your swimwear and a towel if you want to swim.
Wear long pants to avoid contact with poison ivy.
Remember to always be a good steward of the land. These springs should be taken care of so please pack out what you pack in. Do not litter and be cautious of where you're stepping and what you're stepping on. Happy trails!
More On Visiting Idaho
Best Guide Books
Join our facebook travel group for weekly USA destination inspiration!